This month, we will release GNOME 3.24, and alongside, GNOME recipes will have its 1.0 release.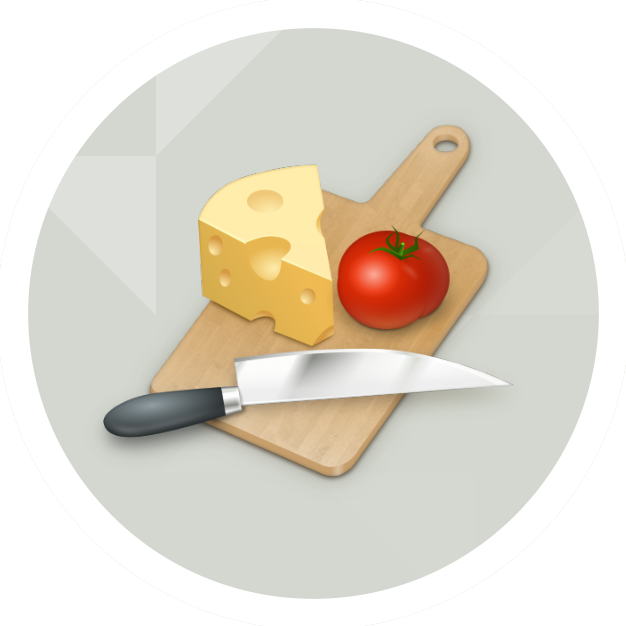 It has been quite a journey from just an idea at GUADEC last August to the application that we have now.
To the finish line
Since my last update, we have focused on completing our 1.0 goals. The last thing that we needed was to get enough contributed recipes to replace all the test data with actual content. And we've made it, thanks to the cooks in the GNOME community, we have plenty of great recipes now: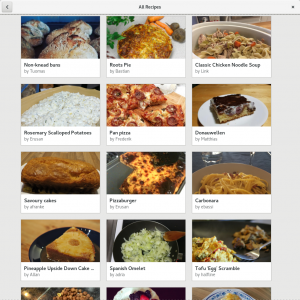 A few small features have still made their way in, despite the focus on polish. One thing I've played with is making appstream data useful inside the application itself, for showing 'What's New' style information: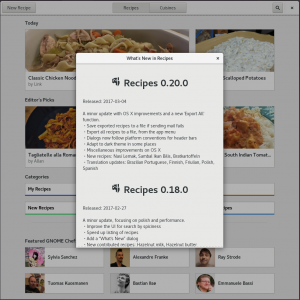 The timer support in cooking mode has seen quite a bit of improvement and polish.
I've also picked up my earlier experiment again, and built Recipes on OS X. This time, I got far enough to produce a dmg image: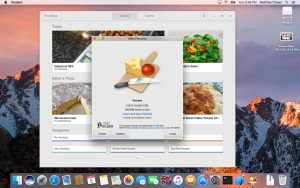 A useful by-product of this effort was a number of bug fixes for the GTK+ Quartz backend, such as working fullscreen and window functions.
What next ?
1.0 will not be the end of the road for Recipes. There's a number of exciting features on the post-1.0 roadmap.
For the next leg of the journey, we will welcome some Outreachy interns who will help us to add useful functionality, from unit conversion to shopping list export.