The previous in this series looked at runtimes and filesystem organization. Here, we'll take a look at the flatpak sandbox and explore how the world looks to a running flatpak app.
The sandbox, a view from the inside
Flatpak uses container technologies to set up a sandbox for the apps it runs. The name container brings to mind an image of a vessel with solid walls, which is a bit misleading.
In reality, a container is just a plain old process which talks directly to the kernel and other processes on the system. It is the job of the container management system, in this case flatpak, to launch the process with reduced privileges to limit the harm it can do to the rest of the system. To do this, flatpak uses the same kernel features that tools like docker use: namespaces, cgroups, seccomp.
Processes
One namespace that is used by flatpak is the pid namespace, which hides processes outside the sandbox from the sandboxed app.  If you run ps inside the sandbox, you'll see something like this:
$ ps
PID TTY TIME CMD
1 ? 00:00:00 bwrap
2 ? 00:00:00 sh
3 ? 00:00:00 ps
One thing you'll notice is that the app itself (the sh process, in this case) ends up with a PID of 2. Just something to keep in mind when getting your app ready for running in a sandbox: PIDs can't be used to identify the app to the rest of the system anymore. This has caused minor problems, e.g with the _NET_WM_PID property that some window managers look at to decide about window decorations.
Filesystems
Another namespace that flatpak makes extensive use of is the mount namespace. It is used to create a customized view of the filesystem for the sandboxed app.
Running mount inside the sandbox will show you all the details, but its a bit much to show here, so we'll just stick to the most important parts:
/app – this is where the apps files are mounted. It is a typical Unix filesystem with /app/share, /app/bin/, /app/lib and so on. When building an app for flatpak packaging, it typically gets configured with –prefix=/app for this reason.
/usr – the runtime files are placed here.
/run/host/ – various parts of the host filesystem that are safe to expose are mounted here, for example fonts (in /run/host/fonts) and icons (in /run/host/share/icons).
/usr/share/runtime/locale/ – the Locale extension of the runtime is mounted here.
Other extensions are mounted in their pre-determined places.
$HOME/.var/app/$APPID is made available to the app as well. This is the place in the home directory where flatpaked apps can store persistent data. The XDG_DATA_HOME, XDG_CONFIG_HOME and XDG_CACHE_HOME environment variables are set up to point to subdirectories in this place, and respecting these variables is a good way for an app to just work in a flatpak.
D-Bus
A common way for Linux apps to communicate with services and apps in the user session is via D-Bus, and most flatpak sandboxes allow the app to talk on the session bus (it can be turned off with a setting in the metadata). But we can't just let the app talk to any other process on the bus, that would be a big risk. Therefore, flatpak sets up a filtering proxy that only allows the app to talk to certain names (this is again set up in the metadata).
The exception to this are portals – these are D-Bus interfaces specifically designed to be safe to expose, and apps are always allowed to talk to them. Portals offer APIs for a number of common needs, such as
org.freedestkop.portal.FileChooser  – Open a file
org.freedesktop.portal.OpenUri – Show a file in an app
org.freedesktop.portal.Print – Print a file
org.freedesktop.portal.Notification – Show a notification
Most of the time, portals will present a dialog to keep the user in control of what system access the sandboxed apps gets.
Toolkits like GTK+ can transparently use portals in some cases when they detect that the app is inside a sandbox, which greatly reduces the effort in using portals.
Metadata
But how does GTK+ find out that is being used inside a sandbox?
It looks for a file called .flatpak-info which flatpak places in the filesystem root of every sandbox. This file is not just a marker, it contains some useful information about the details of the sandbox setup, and is worth looking at. Some apps show information from here in their about dialog.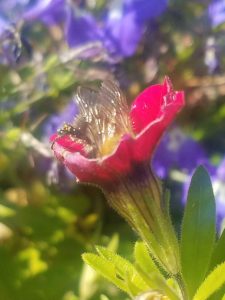 Summary
Flatpak sets up a customized sandbox for the apps it runs. It tries hard to preserve an environment that typical Linux desktop apps expect, including XDG locations and the session bus.