I heard very often that there are some EXIF info that users are really interest in having easy/quick access to. EXIF presentation was really improved as I already reported before. EOG's statusbar could be used to show really common EXIF values like date and exposure values. I wanted to do this in a way that not much noise is added to statubar. Here's the result: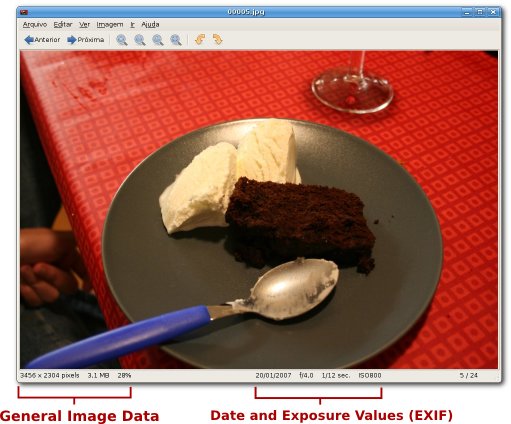 Statubar showing most common EXIF info: date and exposure values.
I haven't commited this yet because I'd like to get some feedback first. Some additional related issues:

Is there a way to show exposure values in a non-photographer-friendly way? I'm thinking in adding a GConf key to optionally enable something like "exposure info in statubar". End-users would free from those evil info then.
Should the time reside on statusbar?
Show simplified date/time ("23/12/2007, 12:48") or a full descriptive one ("23 December 2007, 12:48")?
What do you think is missing in statusbar?

Comments?