FOSS.in has finally finished and I really enjoyed being invited. It was a real pleasure having all these talented and energetic hackers around me. It's definitely on my top-conferences list. You could feel a real hacking spirit and it's really sad that it's already over.
The closing ceremony featured TRDP, a really really good Indian band playing fancy music. I was told that they are pretty famous in India and that FOSS.in was lucky to have them there. Hence we were all nerds, a Twitter wall companied the band showing recent tweets concerning the event…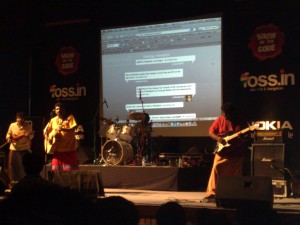 Besides the entertainment, the program itself was pretty good as well. I disliked the keynotes to some extend though. I felt that they were mostly not really relevant to FOSS because the content was obsolete (i.e. one guy basically showing how to do shellscripts) or otherwise out of scope (i.e. a free robot operating system).
I have to thank the organizers of FOSS.in for running that conference and inviting me. Also, I need to thank the GNOME Foundation for subsidizing my trip.
The Bugsquad Talk went pretty well, I'd say. Around 5 people were interested joining the Bugsquad and I hope that they'll stay around 🙂 Unfortunately, the GNOME project day took place on the last day, making it unattractive to start something new because you can't ask anyone anymore the next days.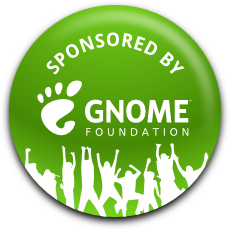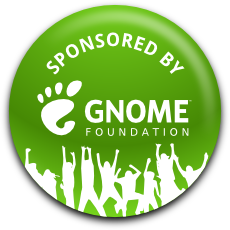 Also, compared to other organisations such as KDE or Fedora, GNOME was highly under-represented. KDE had sweaters to give away. Admittedly, they were not very well designed but hey, it's sweaters after all! Also, they had very fancy leaflets shortly describing what KDE was, why they rule and how to contribute. Very well done.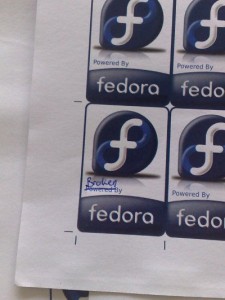 Srini brought GNOME T-Shirts which was fine but somewhat boring. Seriously, I have gazillions of T-Shirts and think other people do so, too, as nearly every project or company gives away T-Shirts. So doing something new is a smart thing to do. I hope the GNOME marketing team will come up with something fresh and shiny (hoodies? shoes? underwear? "GNOME" Keys for the keyboard instead of Windows Keys?).