Over the weekend, I had the opportunity to attend ChaosBBQ in Dortmund, Germany. It's a small yet interesting gathering of hackers and it is a very relaxed conferency happening. With a BBQ 😉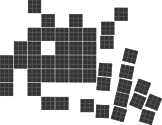 This years motto was "contruct, desctruct!" and I was more on the destructing side: I presented two topics: Security in Mobile Devices and a Magnetic Stripe Card workshop.
The Security in Mobile Devices talk went quite well and I think I encouraged people to start hacking their devices 🙂 It's funny though: I almost see blood coming out of the people ears when I go through the very technical part about buffer overflows. 2/3 seems to be bored or overwhelmed. The other 1/3 seems to be very interested and crave for more details. But I get everybody back when I have more pictures and videos about funny exploits and when I'm able to slander about Apple 😉 Again, I talked about a mixture of Hardware and Platform security and gave examples of previous hacks and how to actually start breaking your gadget.
The magnet card workshop was interesting, too. I presented how magnetic stripe technology actually works. And because we were curious hackers, we explored how it's been used and how we can hack stuff. I told a few warstories that will hopefully be able to expand on in the future (although I don't know whether DCU will like it 😉 ). Since it was more of a workshop, people contributed with technical details (thx to the guys from das Labor 🙂 ) or other interesting facts.
I had a nice weekend in Dortmund and I can recommend attending the ChaosBBQ if you're looking for a tiny yet open gathering of interested geeks and hackers.