Attending last years CCCongress was a great pleasure. Although there were great lectures, it's the spirit that's the best part of the conference. Meeting all these nice hacker people, hanging around, talking, discussing, hacking is just brilliant. You've got all those smart hackers around you and it just can't get boring.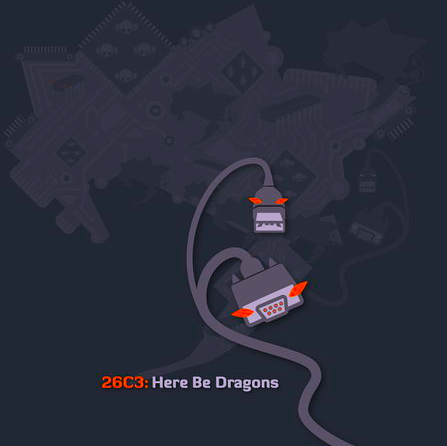 A good way of socialising is, of course, visiting the various parties that take place. The Phenoelit party was awesome. Thanks FX for the invites 🙂
Besides drinking I spent time on some crypto problems and tried to investigate on the magnetic-stripe-card authentication in Hotels and Hostels. I found out, that all our cards for one room are equal, but not one card that has been obtained later. The data on the card is just ~100bits and I tried to find timestamps and room numbers in it but I failed. I blame my dataset to be too small. I'll launch more advanced experiments next year. If you happen to have insider knowledge in magnetic-stripe locks, drop me a line.
I want to highlight two things about the last CCCongress. Firstly, Friend Tickets were available and the concept is just awesome: Basically you can propose a friend of yours you think would benefit of attending the CCCongress but has no way to cover the expenses. The organisers then decide whether you can get a discount (which will, of course, apportioned to every regularly paying attendee). I like to see this solidarity among hackers. Unfortunately, no stats are available to see how many people were enabled to come through this method. I hope, having these friend tickets will be considered next year again. So if you wanted to come to the CCCongress but feared the expenses, consider asking for a discount. Just for the record: The prices are at rock bottom anyway: 80 Euros for a 4 day conference of this kind is amazingly cheap. Thanks to all the angels! 🙂
The second noteworthy concept to distribute the CCCongress as much as possible (called Dragons Everywhere). The idea is fantastic: Increase the number of attendees as much as possible by building mini conferences and stream the most important things. It would be even better, if the gatherings had a feedback channel, i.e. Webcam. Hopefully, it'll be better next year, i.e. better and more reliable streaming services and more places, especially in Berlin, because many people were sent away because the conference was already sold out 🙁
If you want to get a feeling of what the CCCongress is like, you might want to have a look at the recordings. If you organize a public viewing, make sure you show these videos 🙂 Based on the feedback, the best talks were:
And for entertainment, the following German talks are very good:
I hope you enjoy watching the CCCongress and consider coming in next year!