I seem to have skipped last year, but otherwise I have been to the DFN Workshop regularly. While I had a publication at this venue before, it's only this year that I got to have a the conference.
I cannot comment on the other talks so much, because I could not attend too many 🙁 But our talk (slides) was well visited and I think people appreciated the presentation being a bit lighter than the previous one about the upcoming GDPR.
I talked about PrivacyScore.org and how we've measured German universities. The paper is here. Our results were mixed. As for TLS deployment, with a lot of imagination we can see a line dividing Germany. The West seems to have fewer problems with their TLS deployment than the East. The more red an area is, the worse its TLS support is. That ranges from not offering TLS at all to having an invalid certificate or using broken parameters.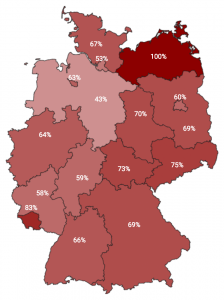 As for tracking its users we had the hypothesis that privately run institutions have a higher interest in tracking its users than publicly run institutions. The following graphic reflects the geographic distribution of trackers on German university's Web sites.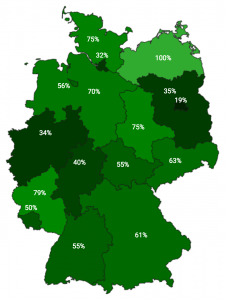 That hypothesis can be confirmed by looking at the PrivacyScore list that discriminates those institutions.
We found data that was very likely not meant to be there, such as database dumps or Git repositories of the Web site's code (including passwords for their staging environments, etc.). We tried to report these issues to the Web site operators, but it was difficult to get hold of the responsible people. For the 21 leaks we found I have 93 emails in my mailbox. Ideally, the 21 I sent off were enough. But even sending those emails is hard, because people don't respect RFC 2142 and have a security@ address. Eventually, we made the Internet a tiny bit more secure by having those Website operators remove the leaks from their Web site, but there are still some pages which have (supposedly) unwanted information such as their visitors' IP addresses online. The graph below shows that most of the operators who reacted did so in the first few days. So management of security incidents seems to be an area of improvement.

I hope to be able to return next year, if only for the catering 😉 Then, I better attend some more talks and chat with the other guests.