So I mentioned some time ago that we have been working with the wild gang behind Songbird
to enable GStreamer on Windows and Mac. I already posted a shot of GStreamer running on Windows some time ago and today the time has come to show of a shot of GStreamer in action on the Mac.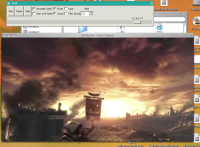 One of the cool things we discovered was that we are able to provide smoother video seeking on the Mac than you get with the quicktime player.
Be aware that even if the application in the picture is a X11 application the video window is MacOSX native and the same with the sound output. A big thanks to Edward who has been fighthing with the 'charms' of MacOSX like crazy to make this happen :)